Selected Plants of Navajo Rangelands
Take care of our Navajo Rangelands
Wildrye, Russian

Tł'oolétsohndtł'izí

Your browser does not support the audio tag. mp3 format
Russian wildrye is an introduced, long-lived, perennial bunchgrass. It has an abundance of long, dense, basal leaves that are from 6 to 18 inches long and up to 1¼ inch in width. Plants vary from light to dark green, with many shades of blue-green. The erect, leafless reproductive stems are about 30 to 40 inches tall.
The seedhead is a short, dense, erect spike with two or more short-awned spikelets clustered at axis joints. The seed shatters readily at maturity. The seed is about the same size as crested wheatgrass seed. The roots are fibrous and may establish to a depth of 6 to 8 feet. However, about 75% of the roots are in the surface 6 to 24 inches.
Russian wildrye roots have an extended horizontal spread and may draw heavily on soil moisture for a distance of up to 4 or 5 feet. Its long season of growth and its vigorous soil-feeding habit make this species an excellent competitor with weeds once the grass is well established.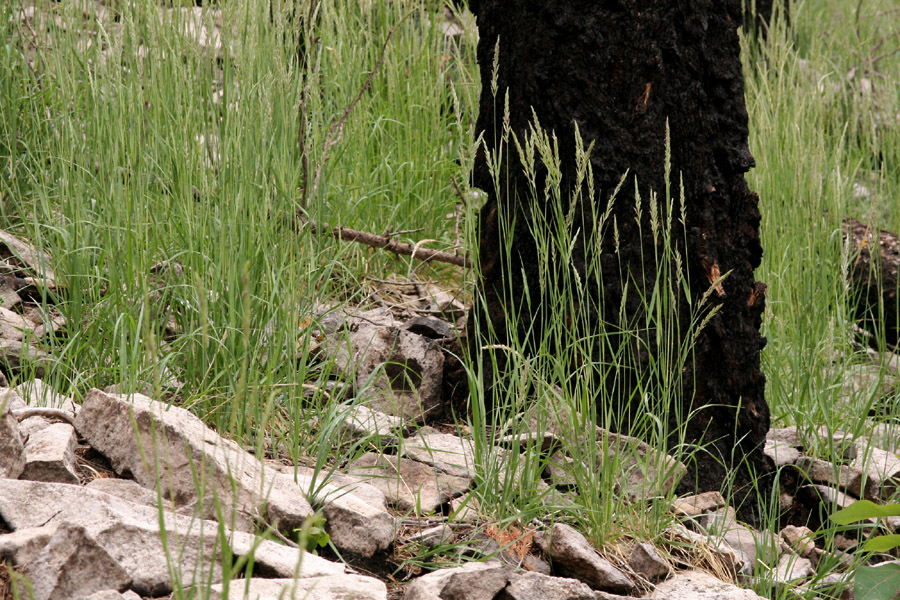 Scientific Name

Psathyrostachys juncea

Plant Type

Grass / Grasslike

Growing Season

Cool Season

Stem Placement

Basal

Habitats

Piņon-Juniper Woodland
Brushlands